How To Renew Wedding Vows
Etiquette & Planning Guide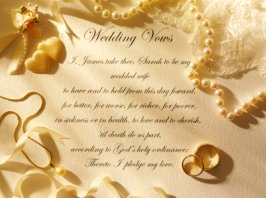 To renew wedding vows is an excellent way to celebrate a milestone anniversary such as the 5th, 10th, 25th etc. However, you can chose to do this on any wedding anniversary you like!
You can choose to renew wedding vows in private or this can be an excellent opportunity to include others in your anniversary celebration. If you chose to renew your wedding vows in private, this will surely be very intimate and romantic time. The two of you could do this at home or on a romantic getaway. If you decide that you would like to renew your vows in the presence of others you have lots of options and things to consider:


What's your budget?

This will certainly play a part in your planning options but remember you can plan an unforgettable event with family and friends for very little money. Try not to get too caught up in planning and lose focus on why you are having the ceremony.


Will this be a small gathering or a large extravagant event?

You can invite only close family and friends or as many people as you would like. Many people choose to include members from their original wedding party.


Where will it take place?

You can host the celebration at a private home or rent a venue. Many times people will renew wedding vows outside (weather permitting) and then have an indoor reception.


What will everyone eat?

You can choose to prepare your own food, have your guests bring a dish to pass, go to a restaurant or have the event catered.


What to wear?

This will depend on the nature of the event. You can choose casual or formal attire. If you are holding a more formal event the woman should wear a formal gown (not a wedding dress) and the man should wear a suit or a tux. Advise your guests to dress appropriately on their invitation.


What to say?

Your renewal vows will very likely be different than your original wedding vows. This is because time has passed and your relationship has evolved. Many people chose to write their own vows so they can customize them to suit their relationship and plans for their future together. Many times people will include the reasons that they have decided to renew their vows.


Who will lead the ceremony?

Since this is not a legal ceremony your options are open. You may ask a judge or church official but it's usually not necessary. You can always consult your church for appropriate guidance. It is common to have a family member or a close friend officiate this symbolic ceremony.


Other basic guidelines and information

No Gifts - it is generally not customary to give/receive gifts at a vow renewal ceremony.
No Parties - It is generally not customary to hold bachelor or bachelorette type parties prior to the ceremony.
Rings - It is generally not customary to purchase new rings. However, you can rededicate your existing wedding rings. Also, a woman may receive a new anniversary ring at this time.
Legalities - This is not a legal ceremony; there is usually no judge or church official involved. You can always speak with your church officiant to find out what might be appropriate for your religion.
Make the event unforgettable – Incorporate items from your wedding ceremony when decorating the reception area. Have a DVD slide show of wedding pictures and other favorites. You can also play a video of the original wedding ceremony if available. Have guests recount an inspirational or humors story about the honorary couple. Read a poem, share a quote or make a toast to the "re-newlyweds"!


How to Address Your Invitations
If you're hosting your own ceremony your invitations could say something like this:

The pleasure of your company
is requested at
the reaffirmation of the wedding vows of
Robert and Sarah Smith
Saturday the 27th day of September
At Seven O'clock in the evening
Butterfield Inn
Rochester NY

If children are hosting the event for their parents it could say something like this:

The children of
Robert and Sarah Smith
Request the pleasure of your company at
the vow reaffirmation ceremony of their parents
Saturday the 27th day of September
At Seven O'clock in the evening
Butterfield Inn
Rochester NY

Return from Renew Wedding Vows to Romantic Anniversary Ideas
Return from Renew Wedding Vows to Home Page