The Romantic Anniversary Ideas You Need to Celebrate Your Love
Are you looking for romantic anniversary ideas?
OK…your anniversary is approaching and you are looking to do something special to celebrate. With a little planning you can create those magic moments and memories that last a lifetime.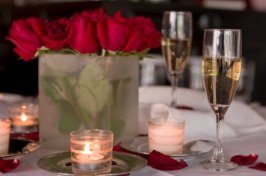 Having an unforgettable anniversary does not always include exchanging expensive gifts, going on vacation or spending lots of money. You can take a romantic idea or two and spin them into memories that will last a lift time! Remember, preparation and presentation are everything. Give from the heart and it will always be a special and memorable day.
---
While you are here why not Rave About Your Romance! Share your special romantic idea or secret and see how others have created unforgettable memories.
---
Our Romantic Anniversary Ideas


Renew Your Wedding Vows
This can be done in private or with a symbolic ceremony. See our etiquette & planning guide here .
I Love You In 100 Languages
Learn how to say "I Love You" in French or any of these 100 languages !
Unforgettable Evening
Plan an unforgettable evening. This could be a surprise for your partner or something you plan together. Spend it at home or go out on the town! See our top 10 romantic evening ideas

Romantic Dinner
Romantic dinner ideas & suggestions for planning and unforgettable dining event. From the elegant to the adventurous! See our romantic dinner ideas.

Romantic Picnic
Plan a memorable anniversary picnic.

Take a Trip
Plan an anniversary trip…There is nothing like spending time away from the familiar to enhance a relationship and mark this special occasion.

Plan a Vacation
For fantastic ideas and tips on romantic vacations, destinations and romantic getaways worldwide we highly recommend you visit Excellent Romantic Vacations

1st Date
Relive your first date or the first time you met. Include as many details as you can remember!

Romantic Movie
Watch a romantic movie together.

The Right Gift
Plan on giving the perfect gift - This could be something you create or something you buy.

A Love Letter
Write your spouse a love letter and include one of these unforgettable romantic movie quotes

Romantic Trail
Leave your spouse a trail of rose petals leading to their anniversary gift or a romantic setting you created (candles, music…). This can be done using fresh roses or with a rose petal kit.
Romantic Game
Add some sexy adventure and play a romantic game together.

Read a Poem
Plan on showing your love with one of these unforgettable poems or write your own.

Also see our collection of:

Anniversary Surprise Ideas

Free Anniversary Ideas

Inexpensive Anniversary Ideas

Inexpensive Romantic Ideas

For more ways to celebrate your love, please check out this highly recommended site for romantic date ideas and short love poems.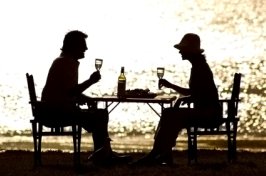 Rave About Your Romance!
Do you have a great romantic idea or secret you would love to share? Please do tell! Just enter the title for your idea below and the text entry box will open.
What Other Visitors Have Said
Click below to see contributions from other visitors to this page...

There are lots of great romantic anniversary ideas here to help you celebrate in style!

Return from Romantic Anniversary Ideas to Unforgettable Anniversary Ideas