Unforgettable Wedding
Anniversary Ideas



Wedding anniversary ideas made easy! Just click on the year of anniversary to find tailored gift and celebration ideas that will bring enduring delight!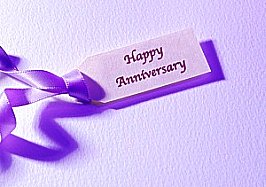 Below we have also included some of our favorite visitor suggestions that are perfect for celebrating any wedding anniversary year.

Please bear with us as we complete these pages! Also be sure to check out our Anniversary Gifts by Year page!


Anniversary Years 1-10
---
1st 2nd 3rd 4th 5th 6th 7th 8th 9th 10th



Anniversary Years 11-25
---
11th 12th 13th 14th 15th 20th 25th



Anniversary Years 30-50
---
30th 35th 40th 45th 50th


Also see our collection of:

Romantic Anniversary Ideas

Anniversary Surprise Ideas

Free Anniversary Ideas

Inexpensive Anniversary Ideas

Inexpensive Romantic Anniversary Ideas


Here are some of our favorite wedding anniversary ideas that have been submitted by visitors!


Romantic Road Signs
Take some large pieces of cardboard or poster board and write your spouse a series of short love messages (Happy Anniversary!...I love you!...) then post these signs on telephone polls, trees or lamp posts as you would yard sale signs on the route you spouse takes. Do this before your spouse leaves the house in the morning or late the night before. I guarantee you will make their day!!!
by Tara
(USA)



"Sweet" Anniversary Gift
I gave my husband a jar filled with chocolate bars and M&M's for our 1st anniversary. I put in one large chocolate bar to represent the year, 12 smaller bars to represent the months and 365 M&M's to represent the days. You can place the candy in a special jar or a gift wrapped box. My husband loved it! by Jenny
(Boulder Creek, Colorado)


10 of Everything
Last year we celebrated our 10th wedding anniversary. My husband went out and got me 10 of everything! He bought me 10 flowers, 10 gift certificates from various area stores and 10 of my favorite chocolate bars!
by Lisa
(CA)


Anniversary Dream Pillow
I made an anniversary dream pillow last year for our 3rd anniversary. Here's how it's done…Take some of your favorite pictures to your local photo processing center and have them made into "transfers". You then iron them onto a solid colored pillow case however you like. You can also print out a poem, a quote or a heart felt message you created and have that made into a "transfer" to add to your pillow. Another option is to use fabric markers for that hand-made look. This is a very special gift that does not cost a lot to make.
by Cindy


A Picnic in our Bedroom
Sometimes we like to have a romantic picnic in our bedroom. Low light and music are a must. We lay the blanket out on the floor and set up our food and drink!
by Tina
(Washington )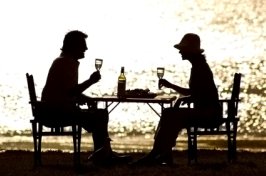 Rave About Your Romance!
Do you have a great romantic idea or secret you would love to share? Please do tell! Just enter the title for your idea below and the text entry box will open.
Return from Wedding Anniversary Ideas to Unforgettable Anniversary Ideas