Unforgettable Anniversary Party Ideas and Advice
Anniversary party ideas are helpful whether you're looking to plan a party for yourself or for a loved one. We have put together step-by-step suggestions to help guide you through your party planning. Creating an unforgettable party without feeling overwhelmed or stressed. Actually enjoying the process of planning is possible when you have a plan in place.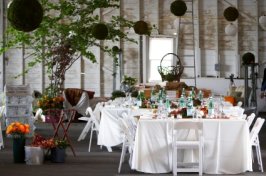 Traditionally most people celebrate their 25th anniversary (silver anniversary) and/or their 50th anniversary (golden anniversary) in grand style. However, it is also very common and acceptable to have party on any of the five year milestone of a marriage (5th, 10th, 15th etc.) on a smaller, more playful scale. These anniversary party ideas can be used and/or customized to suit your needs.


Anniversary Party Planning Basics (Step 1)
Establish A planning Committee
Decide who will take part in the anniversary party planning. It's a good idea to have one person leading the planning committee while utilizing the strengths/skills of each member to focus on certain aspects of the planning (i.e. is there a banker or accountant in the house? They're in charge of budgeting…who's the most creative on the committee? They're in charge of decorations etc.


Establish Your Budget/Develop Your Guest List
These two things kind of go hand in hand when planning. You can base the budget on the amount of guests you are planning to invite or you can plan the amount of guests you invite on the established budget. As you develop the guest list it's important to keep in mind the comfort level of the anniversary couple when planning. Are the comfortable around large groups and a festive atmosphere or do they prefer smaller more intimate gatherings? As you create the guest list it's always important to keep in mind the wishes of the anniversary couple. Invite people you know they will be comfortable with…this is there day and they should be surrounded by people that bring them pleasure.


Establish Your Anniversary Party Location (make reservations if needed)
Do you want the party in a private home or at a restraint or banquet facility? A home party can offer a more personal, intimate and relaxed atmosphere. However, you will need some "hand-on" people to make this happen. With good planning that's no problem! Make sure the home offers enough space for everyone to mingle comfortably and gather for those special moments (toasts, speeches and cake). If you decide to hold the anniversary party someplace other than a private home you will need to take into consideration the number of guests, the mood you wish to establish (formal, casual, festive, etc.), the food (will this be a themed party?), do you want a dance floor and a DJ and is it within your budget.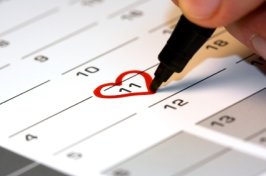 Chose Anniversary Party Date/Time
It's always nice to establish the party date on or very near the actual wedding anniversary date. However, it's also important to ensure as many invited guests will be able to attend as possible when choosing the date. Take into consideration the day of the week (weekends are best), work around holidays and think twice about holding the party during months where inclement weather could cause guests not to be able to attend. It's always a good idea to inquire about the availability of key guests before making a decision. Once you have established a couple of dates that look good start making calls to your desired locations to make reservations.
If this is going to be a surprise party you may want to schedule the party before or after the actual date to throw the anniversary couple off!

Decide on an Unforgettable Party Theme (Step 2)
It's not necessary to have a party theme but it can certainly add some spice or whimsy to make your party unforgettable. If you chose not to have a theme for your party you will definitely want to decide on a mood (elegant, formal or casual). Chosen decor and Menu will help establish the party's mood. If you are on a limited budget hosting the party at home with a casual mood works well. This allows the host and a good team of helping hands to handle all the party/food preparation (this is a great anniversary party idea).
If you decide to use a party theme keep in mind the more popular themes are easy to purchase decorations/supplies for at a local party supply store. Theme's are a great way to make your party the talk of the town and truly unforgettable. Always remember to keep in mind the anniversary couples likes and dislike when choosing/planning a theme.

Popular themes and anniversary party ideas include:
Luau/Tropical- Island atmosphere, Tiki Torches, artificial palm trees, shells, flower leis and island drinks
BBQ/Western- Grilling, country music, cowboy hats, bandannas and line/square dancing and beer
Fiesta- Sombreros, spicy dishes, Mariachi band/music piñatas and Mexican drinks
Decade- Decorate and play music from the 50's, 60's, 70's etc. You may want to choose based on the year the couple got married
Hollywood- Have posters, DVD's and mock magazine covers made featuring the anniversary couple. Decorate with red carpet and blockbuster movie posters and play movie soundtrack music.

Classic 25th Anniversary Party Ideas

Classic Golden Anniversary Party Idea
Plan Your Menu (Step 3)
Your menu will be dictated by your budget and chosen party theme or mood. If you are planning a home party you will need to determine if your budget allows for hiring a caterer. If you decide to use a caterer now is the appropriate time to contact them. Choose your foods and drinks according to your party theme/mood.
Invitations (step 4)
Create or purchase party invitations that coordinate with the chosen theme/mood of the anniversary party. You will want to send out your invitations 6-8 weeks in advance with a response date set 2-3 weeks before the party date. You can then manage the RSVPS to determine the final number of guests.

Prepare to Celebrate (Step 5)
Order/rent any additional party equipment that may be needed (tents, tables, chairs etc.)

Decide on music-DJ, band or a mix you or someone prepares for the party.

Anniversary party favors aren't something you're actually obliged to give to your guests, but just like with a wedding or any other type of landmark celebration party, a small token of appreciation goes a long way in thanking your friends and family for sharing in your celebration.

Top Wedding Anniversary Song Picks!

Purchase party favors, decorations (party supply stores usually have a great array of choices)

Purchase food and drinks

Setting The Stage (Step 6)
Pick up last minute items (balloons, clothes, drinks etc.)
Decorate party location and tables
Set the tables
Place out prepared food or let the caterers take care of it
Create the atmosphere you desire-lighting, candles and music

Make Your Party Unforgettable! (Step 7)
(Some of our favorite anniversary party ideas)
Create and show a video or slide show starring the anniversary couple and their family
Place posters and/or pictures of the anniversary couple around the party location
Place out a scrap book of the couples old photos
Have a replica made of the anniversary couples wedding cake
Have the couple's children/grandchildren write a page of memories to be combined into a book to be put on display at the party
Place disposable cameras on the guest tables to capture the party from everyone's perspective
Have a sign-in/guest register for guests to write memorable messages to the couple



We hope that these anniversary party ideas help you create the perfect unforgettable anniversary party!
Please share your anniversary party ideas below!

For more fantastic party planning tips, resources and ideas please check out this site Theme Party Queen.com


Have A Great Party Idea,Tip or Story to Share?
Please tell us your idea or share your story!
What Other Visitors Have Said
Click below to see contributions from other visitors to this page...

We hope that you found these anniversary party ideas helpful in planning an unforgettable event!