The History of Wedding
Anniversary Traditions & Interesting Facts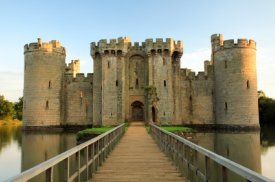 Did you ever wonder how wedding anniversary traditions got started?

Well...
"The practice of giving peculiar gifts on various wedding anniversaries originated in Central Europe. Among the medieval Germans it was customary for friends to present a wife with a wreath of silver when she had lived with her husband twenty-five years. The silver symbolized the harmony that was assumed to be necessary to make so many years of matrimony possible. On the fiftieth anniversary of a wedding the wife was presented with a wreath of gold. Hence arose 'silver wedding' and 'golden wedding.' This practice, borrowed from the Germans, has been elaborated upon in modern times"

Source: Information Roundup, George Stimpson



"Prior to 1937, only the 1st, 5th, 10th, 15th, 20th, 25th, 50th, and 75th anniversary had a material associated with it. In 1937, the American National Retail Jeweler Association issued a more comprehensive list, which associated a material for each anniversary year up to the 20th and then each fifth year after that up to the 75th, with the exception of the 65th."

Source: Wedding Anniversaries: from paper to diamond, Cookie Lee




Here are some interesting related history facts:

---

Fact: In popular folklore there is a rhyme for whatever month you were married.

January
Marry when the year is new, he'll be loving, kind and true.

February
When February birds do mate, you wed nor dread your fate.

March
If you wed when March winds blow, joy and sorrow both you'll know.

April
Marry in April if you can, joy for maiden and for man.

May
Marry in the month of May, you will surely rule the day.

June
Marry when June roses grow and over land and sea you'll go.

July
Those who in July do wed must labor for their daily bread.

August
Whoever wed in August be, many a change is sure to see.

September
Marry in September's shine so that your life is rich and fine.

October
If in October you do marry, love will come but riches tarry.

November
If you wed in bleak November, only joys will come, remember!

December
When December's snows fall fast, marry and your love will last.


Fact: In the Commonwealth, a couple can request a greeting in writing from the British monarch to celebrate their their 60th, 65th, 70th... wedding anniversary.


Fact: The faithful Roman Catholic can ask their local bishop to send a request to the Pope for blessed thanks for their wedding anniversary. This can be done on their 25th, 50th, 60th ... wedding anniversary.



We hope that you find this wedding anniversary traditions & history information helpful and interesting!


Return from Wedding Anniversary Traditions to wedding anniversary symbols

Return to Unforgettable Anniversary Ideas