25th Anniversary Party Ideas
We have put together some of the classic 25th anniversary party ideas to share with you.
This page focuses on the traditional silver theme. However, if you are looking for other great anniversary party ideas, themes and complete step-by-step planning advice please go to our anniversary party planning/ideas page , you will find every thing you need there.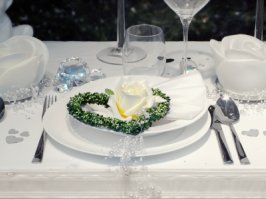 25 years…A quarter of a century together…A milestone indeed. Now it's time to plan an unforgettable celebration!
Traditionally this classic party theme includes subtly weaving the color silver everywhere possible to signify this wonderful occasion.
This is a time for making toasts , making speeches , telling jokes and reading a poem or two to the honorary couple.

Suggested uses of the color silver include:
Silver party invitations
Silver decorations (party stores usually have a great collection of silver balloons, confetti, streamers, candles, doilies etc.)

Silver themed gifts
Silver themed anniversary cake
Silver themed favors (candles…photo frames)
Place silver ropes with tassels on the backs of chairs
China with silver trim
Crystal glasses with sliver accents
Silver napkin holders
Photographs placed in silver frames
Place cards written with silver ink
A silver cake topper
We have many more party ideas and complete step-by-step planning advice on our anniversary party planning/ideas page.


Return From 25th Anniversary Party Ideas to Anniversary Party Ideas

Return to Home Page