Romantic Dinner Ideas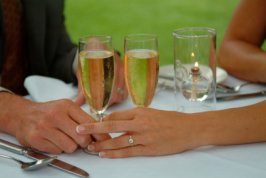 Romantic Dinner Ideas & Planning Tips
When planning a romantic dinner, there are many factors to take into consideration to be sure everything goes perfectly. The first step is to know your partner's preferences very well. What would they enjoy most? A candlelit dinner at home, an outdoor picnic, or a fancy restaurant? Once you've decided where your romantic dinner is going to take place, then you can start planning out more of the details.


A Romantic Dinner at Home

If your partner would enjoy a romantic candlelit dinner at home, you need to know your partner's schedule so you can set everything up ahead of time and surprise them. Also pick a time when you know your partner will have a lot of free time, and won't be stressed out from work or other worries.
Make sure to have a nice candle set, a tablecloth, and good silverware on the table. Serve your partner's favorite dish as the main course, and include other foods that they enjoy. This will make your partner feel very special and loved. It's also a good idea to play romantic and soothing music softly in the background as you eat dinner.
If time allows, also plan for another romantic activity after dinner, like taking a bubble bath together or cuddling and watching a favorite movie.


A Romantic Dinner Outside

If your partner is the fun, adventurous, and outdoorsy type, a romantic picnic under the stars would be perfect. When planning a picnic, it's important to know what the weather will be like ahead of time so the two of you won't be caught in the rain! Also take temperature into consideration. It won't be fun if it's too cold outside. Pack a basket of favorite foods, and hike to a secluded clearing. After eating, lie down next to your partner and listen to the crickets and frogs and look up at the stars. Talk about whatever comes to mind, and really listen to each other.


A Romantic Dinner at a Restaurant

If your partner likes being outside in the fresh air, but isn't up to a hike and a picnic, consider going to a nice restaurant together and sitting outside on the deck or balcony while you eat. If your partner loves being treated to the good life, they would love being taken to a fancy restaurant. If this is the case, be sure to make reservations ahead of time. Make sure it's a day that your partner will be free. You should also be sure to dress appropriately for the situation. Let your partner choose whatever they'd like to eat and enjoy the classy atmosphere. Have a deep and meaningful conversation while you eat.
A night out is always romantic and enjoyable when planned well. Planning the perfect romantic dinner isn't that hard when you put some thought into it.
When you know your partner's preferences, treat them to what they enjoy most. This will let them know that they're really well cared for and loved. Even if something goes wrong and your plan doesn't go off without a hitch, it's still the thought that counts.

We hope that you find these romantic dinner ideas helpful to planning and unforgettable dining event!


What's Your Romantic Dinner Idea?
Do you have a great romantic dinner idea you would like to share? please share it here!
What Other Visitors Have Said
Click below to see contributions from other visitors to this page...



Return from Romantic Dinner Ideas to Romantic Anniversary Ideas

Return from Romantic Dinner Ideas to Unforgettable Anniversary Ideas