Romantic Surprise Ideas for
Your Anniversary Celebration!


Searching for romantic surprise ideas for this year's wedding anniversary?
Are you tired of the boring and predictable anniversary celebrations?


Make this year unforgettable by adding the element of surprise to whatever you are planning.
Don't just give them a gift, let them stumble upon it. Place it on the bathroom counter in the middle of the night so they find it first thing in the morning. Place it at the breakfast table. Place it in her jewelry box or on his dresser. Place it on the front seat of their car. Your spouse will be sure to let you know when the gift is found!


---
While you are here why not Rave About Your Romance! Share your special romantic idea or secret and see how others have created unforgettable memories.
---
Rose Petal Romance
Get up early and sprinkle rose petals on the floor and on the bed. This will be a sure to start your anniversary day off right.

Renew Your Vows With a Twist
Plan and plot to renew your wedding vows and then take your spouse to the location where friends and family are waiting for you to renew your love.

Re-Propose
Re-propose to your spouse – It's nice to relive this experience. Make sure you do it right. We are talking on your knee here. A new anniversary band/ring would be a nice touch too.

Balloon Ride
Take your spouse for a hot air balloon ride.

Romantic Serenade
Hire a singer and or musician to sing/play romantic music outside your window or while you dine.

Surprise Getaway
Plan a weekend getaway and don't tell your spouse where you are going.

Romantic Delivery
Send your gift to your spouse at work by courier.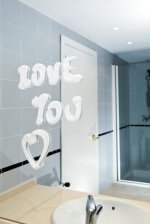 Love Express
Overnight a love poem you wrote by hand.

Romantic Mix
Give your spouse a custom music mix you made of songs that are special to your relationship. Write a sentence or two about each song and what memories are attached to it.

Romantic Photo Memories
Place custom-picked newly framed photos from different stages of your relationship/marriage around your home. You can even put them in chronological order if you know the order in which they will be found. You can place a note on each with the memories you have of the moment the picture was taken.

Romantic Consecutive Photo Message
Make a consecutive photo message. Create a short message you want to send to your spouse. Write each word of the message on a separate piece of paper. Then use a self timer or have a friend take pictures of you holding each word. You then place them around your house separately to be discovered in the proper order of your message. Place the first picture by the bed so they see it when they first wake up. Place the second picture on the bathroom counter. Continue placing your pictures along their daily routine route.

There are a lot of great romantic surprise ideas here you can use or customize to suit your desires.

For even more great ideas may we suggest checking out "500 Romantic Ideas" (by Denise Brienne - it's an excellent resource!)


Also see our collection of:

Free Anniversary Ideas

Inexpensive Anniversary Ideas

Inexpensive Romantic Ideas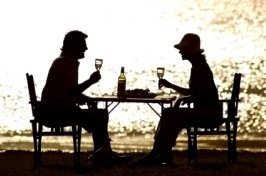 Rave About Your Romance!
Do you have a great romantic idea or secret you would love to share? Please do tell! Just enter the title for your idea below and the text entry box will open.
What Other Visitors Have Said
Click below to see contributions from other visitors to this page...



Return from Romantic Surprise Ideas to Romantic Anniversary Ideas

Return from Romantic Surprise Ideas to Unforgettable Anniversary Ideas